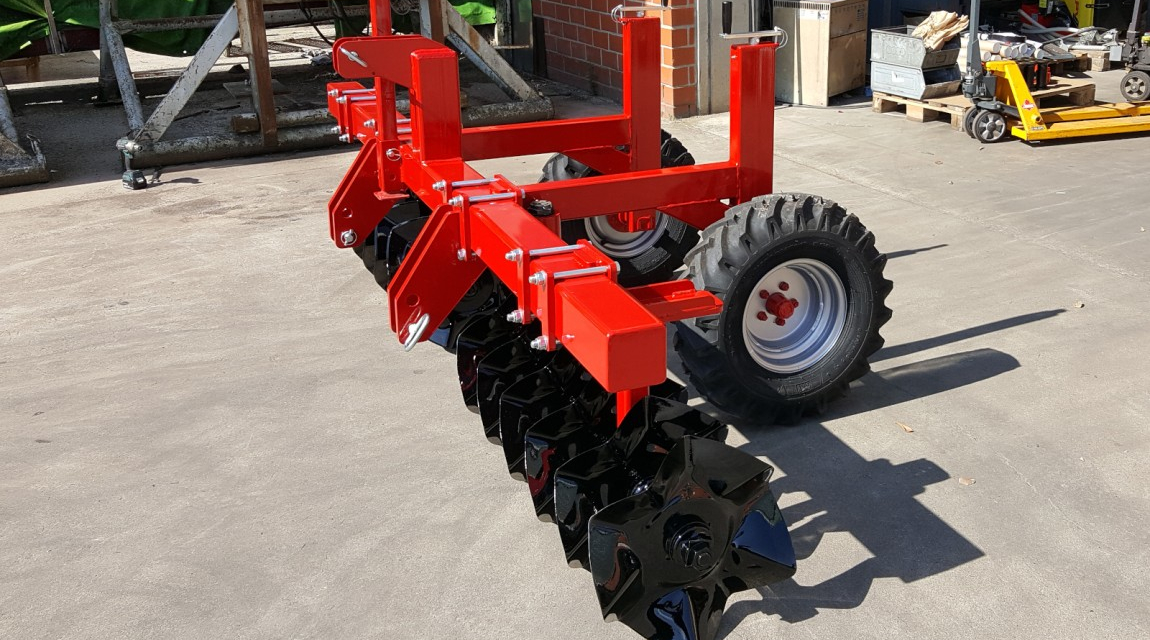 Cultures:
Function / Application:

Cutting up plant residues and wild weeds in the tramlane
Soil loosening in the tramline
Particularly suitable for light soil

Basic equipment:

Hitching frame for mounting on standard front-mounted tractors
1 x Support foot
2 x Support wheel
2 x 5 crosscutter disc:

Ø approx. 440 mm
= the tractor runs more smoothly due to the greater ground pressure of the disc shapes
= greater stability
Individual bearing
= flexible adaptation to the height of the existing floor
Cuts off wild weed roots the soil
= more difficult regrowth of wild weeds

Non-adjustable working width

Individual modifications regarding equipment, dimensions, etc. on request.
| | | |
| --- | --- | --- |
| | | Front disc harrow |
| Tractor | | Standard tractor |
| Tractor attachment | | Front attachment |
| Cutting wild herbs | | + |
| Incorporating wild weeds | | - |
| Soil loosening in the tramline | | + |
| Soil conditions | | Lighter soils |
| Disc type | | Crosscutter disc |
| Ø Disc | approx. | 440 mm |
| Individual disc bearing | | + |
| Roller type | | - |
| Number of rollers | | - |
| Roller width | approx. | - |
| Height-adjustable support wheel | | 2 |