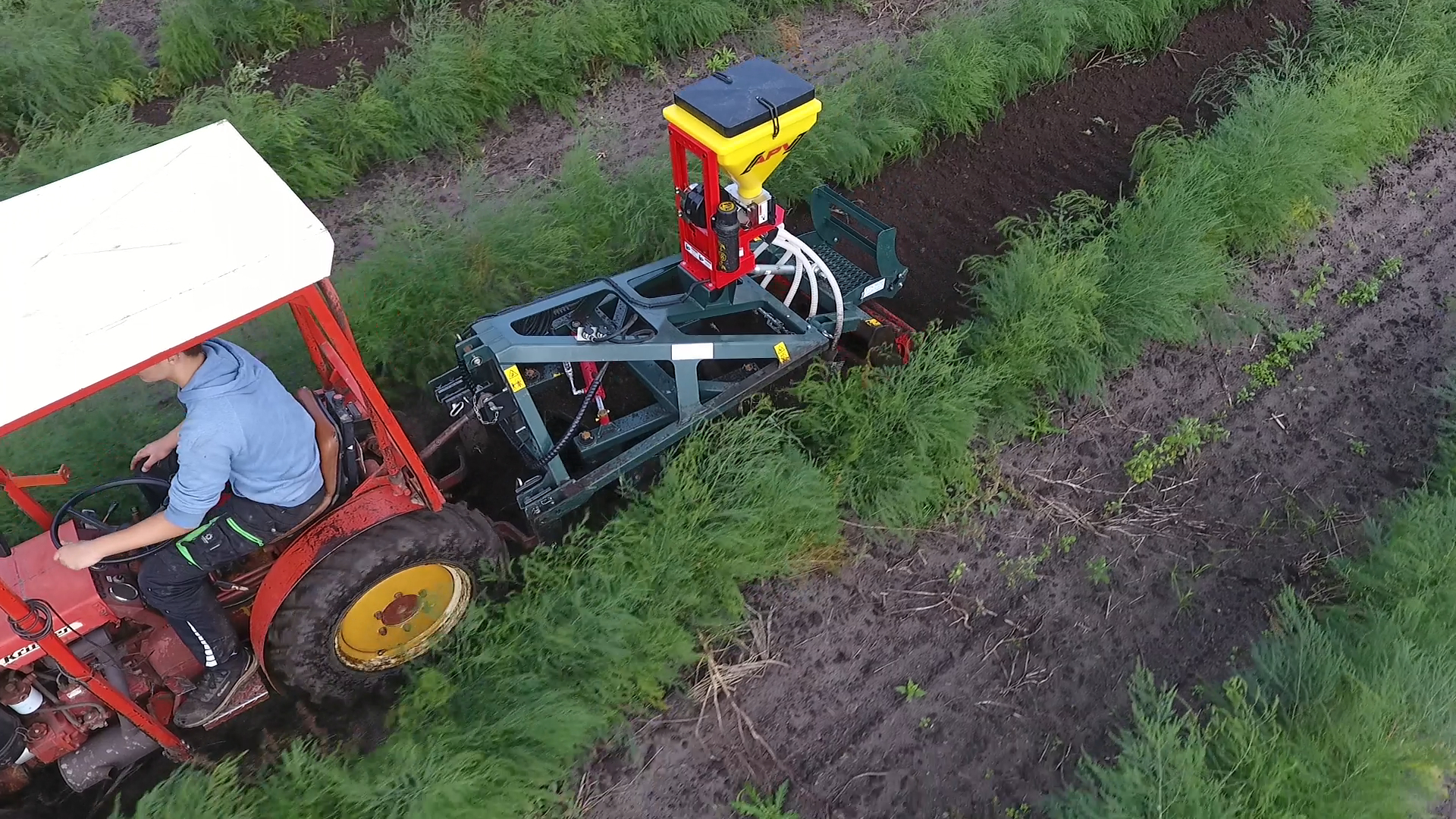 Cultures:
Function / Application:

Cutting up plant residues and wild weeds in the tramlane
Soil loosening in the tramline
Particularly suitable for light soil

Basic equipment:

Three-point hitch for mounting on narrow-track tractors
2 x Parallelogram segments with crosscutter discs
Segments hydraulically sychronously adjustable
Crosscutter disc:
Ø approx. 440 mm
= the tractor runs more smoothly due to the greater ground pressure of the disc shapes
= greater stability

No individual bearing
= no flexible adaptation to the height of the existing floor
Cuts off wild weed roots the soil
= more difficult regrowth of wild weeds

1 x Tube bar roller
Roller width: approx. 1000 m
Hydraulically adjustable working width

Accessories / Variations:

Two different working widths
Hitching frame for parallel mounting of two disc harrows TUKAN on standard tractors
Different roller types (according to soil conditions)
Serrated hollow disc
Ø approx. 510 mm
= no cutting, but incorporation of wild weeds
Seed drill for intercroping
= more moisture in the soil
= fewer wild weeds
= nitrogen enrichment in the soil due to under-working of the intercropping

Individual modifications regarding equipment, dimensions, etc. on request.
| | | | |
| --- | --- | --- | --- |
| | | TUKAN 110 | TUKAN 150 |
| Tractor | | Narrow-track tractor | Narrow-track tractor |
| Tractor attachment | | Rear attachment | Rear attachment |
| Cutting wild herbs | | + | + |
| Incorporating wild weeds | | - | - |
| Soil loosening in the tramline | | + | + |
| Soil conditions | | lighter soils | lighter soils |
| Disc type | | Crosscutter disc | Crosscutter disc |
| Ø Disc | approx. | 440 mm | 440 mm |
| individual disc bearing | | - | - |
| Roller type | | Tube bar roller | Tube bar roller |
| Number of rollers | | 1 | 1 |
| Roller width | approx. | 1000 mm | 1000 mm |
| Height-adjustable support wheel | | - | - |